The Pirates Project: A Personal View
The following article was written by the arranger and musical director, Brian D Steel, for publication as the preface to the programme for HAODS' 2009 production of "Pirates of Penzance", and outlines the background to his musical arrangements and orchestrations.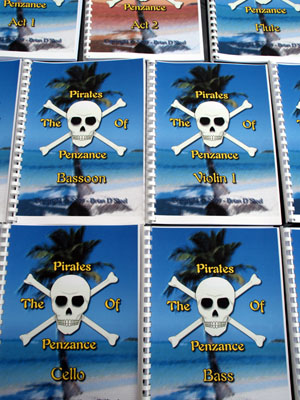 Preface to the 2009 HAODS Programme for Pirates
As someone who has performed every one of the thirteen "Savoy Operas" at least twice, and most of them many more times than that, I have had a lifelong love of the musical comedies of Gilbert & Sullivan. Gilbert's razor sharp wit, poetic genius and encyclopaedic lexicon of words, combined with Sullivan's gentle, but always intensely melodic music, is deeply inscribed into my musical conciousness.
Because of this, I have generally disliked G&S productions which take liberties with the words or the music: my mantra has always been that cliched adage, "If it ain't broke, don't fix it".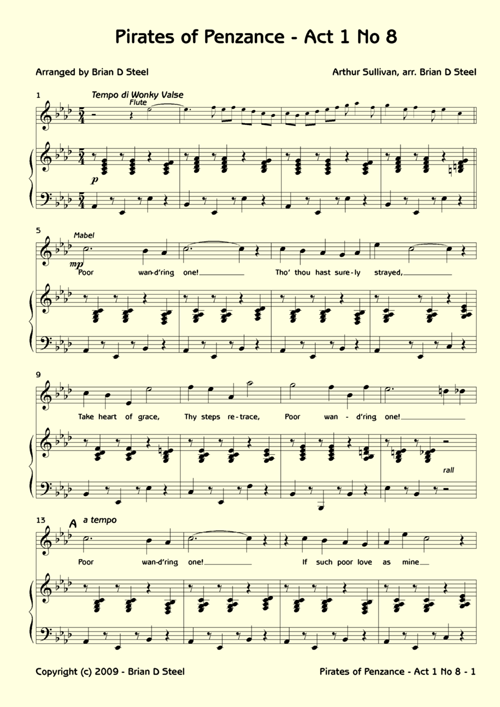 Paradoxically, I have long harboured a secret desire to explore one of their better known pieces, to dig deep into Sullivan's musical invention, and to transform it into something new. So, when Yvonne approached me some twelve months ago, with the idea of collaborating on a new version of "Pirates of Penzance", I leapt at the opportunity. Despite this being the G&S show that has been rewritten and reinvented more often ("orphan"?) than any other, we both felt we could come up with something completely new.
And so to a production meeting, over a bottle or two of wine and a delicious meal cooked by my wife, Barbara (tonight's "1st violin"), during which we talked through the score, with comments like, "Boring, too slow!", or "Can we swing this?" crossing the table. At some point during the main course, the idea came up to set our show in the Caribbean, rather than Cornwall, and all of a sudden, my mind began to fill with the sounds and rhythms of Calypso, Tango, Rumba and Samba.
I decided to impose a severe constraint on myself, borne out of my own, deep love of Sullivan's music: I was not to change a single note of his vocal writing. Every melody, every vocal harmony, was to be exactly as he originally penned it; only the rhythms would change here and there, and, of course, the accompaniments would be completely different.
Over the ensuing weeks, I started to experiment with the songs; one by one, I discovered that they lent themselves amazingly well to the Latin/Carib treatment. Rich, jazzy chords and exciting cross-rhythms matched Sullivan's own melodies and harmonies perfectly: I was going to be able to satisfy my self-imposed constraint after all!
I began to record some of my early ideas, and drip-fed them to Yvonne, fully expecting her to throw the CDs back in my face. Much to my delight, she seemed to like what I was doing. Only one number, "When Fred'ric Was", came back to me with a note that it was "Still too slow"! Evidently, my "Copacabana" take hadn't changed it sufficiently, so instead I rewrote it as the jaunty Sea Shanty you will hear tonight.
Elements of Ragtime, reminiscent of the silent movies, crept in to accompany some of the more comical numbers in Act 1, and a passionate Argentine Tango underpins the emotional Act 2 love duet between Mabel and Frederic; elsewhere, Mabel sings her famous solos in Samba and lilting 5/4 time, and her three principal sisters perform their trio, imported from "Princess Ida", as a fiery "Fandagalypso", something of a chimaera combining the styles of Fandango and Calypso.
The Overture is a piece I originally wrote some years ago for a show about the life and times of Gilbert & Sullivan; it presents themes from several of the G&S operettas, set in the style of a Grand Viennese Waltz. The mysterious opening section begins with eleven repeated chords, rather like the chimes of distant church bell, a happy coincidence for this particular story! The Prelude, which follows the Overture, is a short and dramatic piece combining "Away, Away!" with a motif from a well Hollywood known film.
The first draft of the vocal score was ready in good time for the start of rehearsals, back in November last year, and although I have been tinkering with it ever since, it has remained sufficiently constant not to cause too much trouble for the cast and director!
Everyone in the company seems to have relished working with this new version of a well-loved show, and rehearsals have been a pure joy throughout. With Yvonne's energetic swash-buckling, wonderful acrobatics and lively dialogue, and the toe-tapping rhythms and tropical touches of my music, together, I believe we have produced an exciting new show.
It has been great fun in the making; I hope our combined enthusiasm will burst off the stage tonight, and that you enjoy the show!
Brian D Steel, 06 Apr 09
Web design by
Solanum
Copyright © 2019 Brian D Steel
All rights reserved