Website Design and Maintenance
Combining his interests in visual design and computer programming, Brian creates and maintains websites for various groups and organisations. He is equally happy working with Dreamweaver and hand-coding HTML, XHTML and CSS files; he also uses WIN-PROLOG to automate many site creation tasks, and to implement intelligent components for Windows-hosted websites.
Brian's Website, "Solanum"
Coded entirely by hand, the current version of Brian's personal website is written in 100% standards-compliant XHTML and CSS, with WIN-PROLOG being used to apply the main template design to the individual pages.
Brian's design utilises a fixed format layout, and features CSS drop-down menus, transparency effects, imagery from Brian's extensive photographic library and a textured background that he scanned from a piece of brown wrapping paper.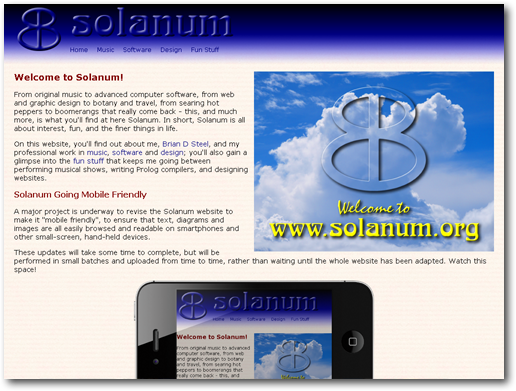 Logic Programming Associates
This commercial website, comprising about 180 pages and numerous images, has recently been rewritten in 100% standards-compliant XHTML and CSS, again using WIN-PROLOG to apply the main template design to the individual pages.
The latest version of this website features CSS drop-down menus and transparency effects derived from Brian's own website, and includes several dynamic components, such as the "Squid" search engine, implemented as server-side WIN-PROLOG scripts. The menus themselves are generated by a WIN-PROLOG script to convert a simple, indented text file into the complex series of nested HTML tags and CSS classes.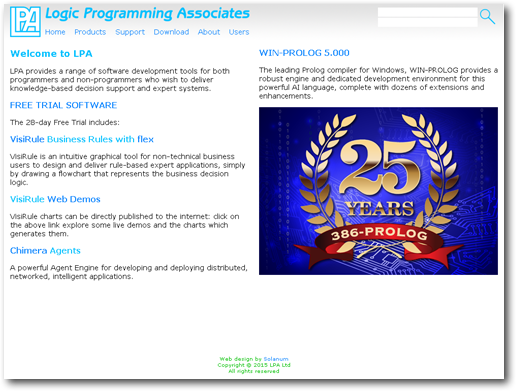 Horsham Amateur Operatic & Dramatic Society
While working as Musical Director for the HAODS production of his version of "Pirates of Penzance", Brian noticed that the content of the company's website was badly out of date, so he volunteered to take over the site maintenance. He was also unhappy about the old-fashioned style and had-hoc inconsistencies of the website, so decided to redesign the site from scratch. Working in Dreamweaver, together with some automation scripts specially written in WIN-PROLOG, Brian set about a total reorganisation and redesign of the website's many hundreds of pages and thousands of pictures.
Brian's new design for HAODS is in a contemporary, fixed format style, featuring pastel colours and new "embossed gold" logos created in CorelDRAW and Photoshop.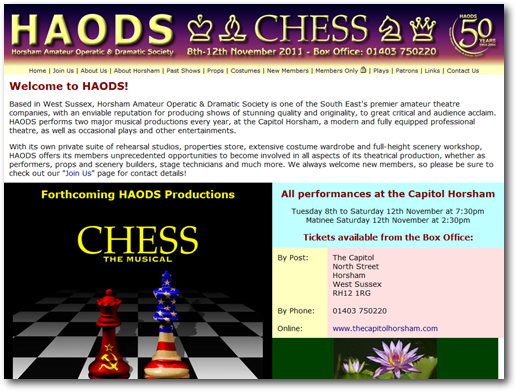 Motor Trades Golfing Society
As a direct result of his work on the HAODS website, Brian was approached about doing a similar makeover for the MTGS: as in the previous case, the website was full of ad-hoc formatting and lacked any measure of consistency. Brian made extensive use of WIN-PROLOG scripts to strip out the literally thousands of text adornment tags, and to normalise a vast number of tables, divisions and other sections. As no master files existed for the MTGS logo or banner, Brian recreated these in CorelDRAW, using a couple of musical symbols from the "Sonata" font to form the crossed golf-clubs.
Brian chose a relaxing theme, using sky blue for the header, and a textured paper background, which is the same one he uses for his own website. He chose a photo at random from the MTGS archives, and used Photoshop to give it a painterly look as the front piece on the home page. Brian has now handed this website back to MTGS, who will be maintaining it from now on.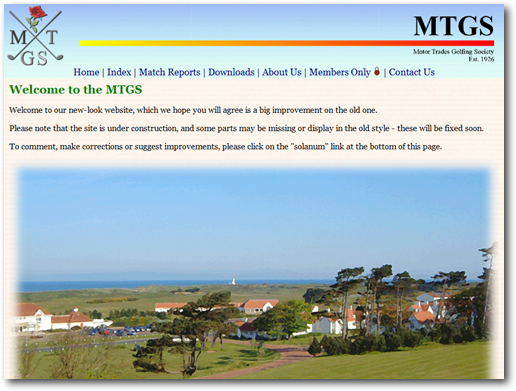 Web design by
Solanum
Copyright © 2019 Brian D Steel
All rights reserved